The North Coast Chorale (NCC) is a welcoming, community-based, non-profit organization dedicated to presenting great choral literature and promoting music education.
Established over 25-years ago, we sing a variety of musical genres including jazz, gospel, sacred and traditional music.

As part of Clatsop Community College Arts & Ideas program, the Chorale mentors young singers.
The Chorale presents two main concerts – a December winter concert and a May spring concert. Each year the Chorale helps community fund-raising events, such as the Messiah Sing-along, presented in collaboration with the Astoria Christian Church and Thrivent Financial to raise money for the local Food Bank. The NCC partners with the Cascadia Concert Opera of Eugene in operatic productions. We also participate in the annual Astoria Music Festival, the winter North Coast Symphonic Band concert, and those that wish to, sing carols at the lighting of the lights in downtown Astoria and sing for the Scandinavian Festival of Lights in late November.
Interested in Joining? We are always looking for new singers!

Rehearsals are Tuesday evenings from 6:45 to 9:00pm at the Clatsop Community College Performing Arts Center on the corner of 16th and Franklin Streets in Astoria. We begin mid-September and run through May.
For more information contact Cheryl Capellen at (503) 791-5681 or Dr. Denise Reed at (503) 338-8403.
The study of music has been demonstrated to improve cognitive ability, enhance mathematical performance and improve your outlook on life. The North Coast Chorale welcomes new members of all levels. While the ability to read music is a plus, recorded performance aids are available so that anyone with a love of singing can add their voice to bring great performances to the North Coast of Oregon and SW Washington.
Meet Our Director
Dr. Denise Reed earned a MS in Music Education from Chicago's DePaul University and an Ed.D. from Nova Southeastern University in Fort Lauderdale, ultimately teaching chorus and music theory in Tennessee, Florida, Nevada and now here on the North Coast. She also composes and arranges music.
Under her direction as Music Director since 2006, North Coast Chorale concerts often encompass a multi-cultural focus. You can reach Dr. Reed at 503-338-8403 or via email.
"Singing opens our hearts and minds and I am convinced that through the message of music, we can make a difference in the way people look at their lives and the universe."
Member Information
At the first rehearsal of both the fall and spring seasons a quick Orientation is held for new members. However, individual orientations are given anytime a new singer joins the NCC.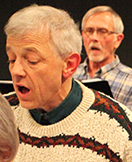 The orientation will include:
Member Information Form – to be completed and returned
Assignment of Music scores
Rehearsal routine and schedule (regular attendance is encouraged)
Introduction to the section leaders
Concert schedule and attire protocol
Introduction of Board Members
NCC Dues – $25 per month
Time for questions and answers
Click here to see candid camera shots backstage before a performance.
Not a Singer?
You can still help keep the Music Coming!
Here are just a few ways to get involved:
Consider a tax deductible donation. The Chorale is a 501c3 non-profit organization and is also part of the Oregon Cultural Trust. We have levels of contribution noted in the next column.
Participate as an advertising sponsor in our concert program.
Elect to sponsor publicity material such as a banner or billboard which would carry your company name or logo
Opt to be an authorized ticket outlet
"Singing opens our hearts and minds and I am convinced that through the message of music, we can make a difference in the way people look at their lives and the universe."–Dr. Denise Reed-Hinds, North Coast Chorale music director
BOARD OF DIRECTORS
Cheryl Capellen, President
Cindy Van Arsdall, Vice President
Carole Birney, Secretary
Patricia Barnes, Treasurer
Will Caplinger
Lois Willis
Frank Spence
Carl Bewley
Dr. Denise Reed
Associate Board Member:
Ellen Kachel-Bewley , Music Librarian

North Coast Chorale, PO Box 632, Astoria, OR 97103